Is There Still Joy in the Eucharist?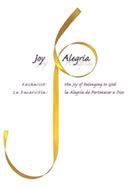 Find out at the 2005 Faith Formation Conference!
The Eucharist:
The Joy of Belonging to God
Saturday, October 22, 2005
Bill Graham Civic Auditorium
Registration at the door is only $30.
Hear great speakers from around the country:
Msgr. James Moroney
Thomas Groome
Fr. J. Glenn Murray
Sr. Eva Marie Lumas
Sr. Gretchen Hailer
Bill Huebsch
Jerry Galipeau
Rev. David Pettingill
and more!
Workshops will also be in Spanish and Vietnamese!
Celebrate in prayer, visit exhibits and come away spiritually renewed and inspired. It is still not too late to register.
For information call 408-983-0127 or click
here
to download the conference brochure (pdf format).