All it takes is ONE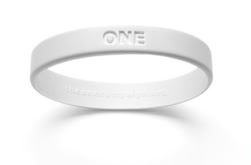 What is The ONE Campaign?
ONE is a new effort by Americans to rally Americans – ONE by ONE – to fight the emergency of global AIDS and extreme poverty. The ONE Campaign is engaging Americans through a diverse coalition of faith-based and anti-poverty organizers to show the steps people can take, ONE by ONE, to fight global AIDS and poverty.
Why is The ONE Campaign needed?
Right now, the US government is making decisions about how much money to spend on humanitarian assistance next year and the UK is poised to lead the world's wealthiest nations at the G8 summit next July. By joining the ONE campaign, we will show our leaders that we want to do more to respond to the emergency of AIDS and extreme poverty.
What is the goal of The ONE Campaign?
The ONE Campaign seeks to give Americans a voice, to ring church bells and cell phones, on campuses and in coffee shops, for an historic pact to fight the global AIDS emergency and end extreme poverty. We believe that allocating an additional
ONE percent
of the U.S. budget toward providing basic needs like health, education, clean water and food, would transform the futures and hopes of an entire generation of the poorest countries.
Who founded The ONE Campaign?
The ONE Campaign was founded by
Bread for the World
, CARE, DATA, International Medical Corps, International Rescue Committee, Mercy Corps, Oxfam America, Plan USA, Save the Children US, World Concern, and World Vision, and works closely with the National Basketball Association, Rock the Vote, and the Millennium Campaign.
What can ONE person do?Wear White on International White Band Day - July 1, 2005
July 1 will see people around the world wearing their white bands and wrapping public buildings in white to send a message to the G8 world leaders that they demand action on trade justice, debt cancellation, and more and better aid. International White Band Day will prove to be one of the largest global actions ever taken.
FILED UNDER: LIVE8