National Migration Week - January 8-14, 2006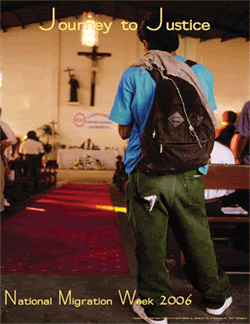 The United States Conference of Catholic Bishops has designated January 8 to 14, 2006 National Migration Week. For the last 25 years, the US bishops have used this week to call people of faith to unite in solidarity with migrants, immigrants, refugees, human trafficking victims, and other people on the move seeking justice and peace. In this year that saw so many displaced by national disasters and human failure, the needs of migrants and refugees have hit so much closer to home for all of us.
You can find many prayer and liturgy resources, in English and Spanish, at the US bishops website for
National Migration Week
.