First Week of Advent, 2005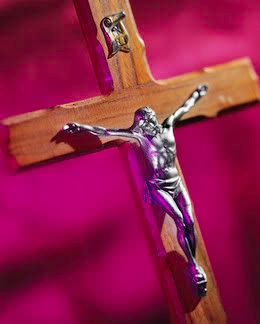 It might surprise you (and I know it will surprise my family!), but I have a tattoo. I got it almost ten years ago. It's been my private mark reminding me of significant things I want to remember.
Last Sunday, the Church in San José inaugurated its Jubilee Year to celebrate its 25th anniversary as a diocese. As part of the celebration, a new Jubilee Cross was blessed and smaller parish Jubilee Crosses were distributed to representatives from the 52 parishes and missions of our diocese.
For us Christians, what does this sign of the cross mean? We mark ourselves with it whenever we pray; we solemnly kiss it in veneration; we place it in our homes, our cars, our pockets, our hands, around our necks. We proudly carry it in public procession; we mark our babies, catechumens, and infirm with it; each spring we smudge it on our foreheads with ashes. But what does it really mean for us, this mark?
Today is
World AIDS Day
. Every year for the last 17 years, the world has stopped to reflect on how AIDS has changed our planet and to remember those who have died from this disease. Although, at least in the United States, we have new drugs and more effective treatments and more scientifically-sound awareness about the virus that causes AIDS, there is still a stigma to this disease, a mark that brands those with it with a sign that segregates them from the rest of society.
We all have our own stigmas—disease, divorce, deformity, dysfunction, debt, doubt, difference—things that mark us as not-what-society-expects. We just don't cut someone's qualification for "normal." Most of the time, bearing these stigmas is a painful and lonely experience. But as Christians, together, we cherish the stigma of the cross. We even revere those holy ones who are literally branded with the stigmata, physical signs of the cross on their bodies. Most of all, we adore the One who was branded as a slave, emptying himself of all godly dignity to die the death of a criminal.
Convicted killer
Stanley "Tookie" Williams
, the founder of the Crips gang and now a long-time anti-gang advocate, sits on death row waiting for a reprieve from Governor Arnold Schwarzenegger from his execution at San Quentin scheduled for December 13, 2005. He sits this Advent season in solidarity with all those who wait in hope.
In Latin, "
stigma
" refers to a tattoo indicating slave or criminal status. Perhaps we need to reclaim this sense of "stigma" when we mark ourselves with the sign of the cross and look upon our Jubilee Crosses during this anniversary year. We mark ourselves as outcasts and brand ourselves in solidarity with the sign of a criminal.
But we don't do this to be morbid or melodramatic. I think we do it to remind ourselves that it is precisely in the outcast where we will find Christ. The paradoxical feast of Christ the King told us exactly this only two Sundays ago:
"'Lord, when did we see you hungry and feed you, or thirsty and give you drink? When did we see you a stranger and welcome you, or naked and clothe you? When did we see you ill or in prison, and visit you?' And the king will say to them in reply, 'Amen, I say to you, whatever you did for one of the least brothers of mine, you did for me'" (Mt 25:37-40).
We wear the tattoo of a slave so that we will never forget where to find Christ.
At the start of our Advent season this year, the beginning of our Jubilee Year, our diocese was given a cross and a warning: "Watch!" (Mk 13:37). This Advent, watch for the signs of Christ not only in picture-postcards of an infant, or the sweet scent of evergreen wreaths, or the bright lights of home and hearth. Perhaps, this Advent, this Jubilee Year, we might also be more watchful for the mark of Christ branded on the criminal, the diseased, the outcast. Then the next time we mark ourselves and our loved ones with this sign of the cross, we might remember those branded by our world as not-Christ and see in them the very real yet hidden presence of God.
This week in
Work of the People
, you'll find:
Also, don't forget about this previous post:
In this Advent season, we do have signs of hope. Last Tuesday, Virginia's governor spared the life of Robin Lovitt a day before he was to become the 1,000th person executed in the United States since capital punishment resumed in 1977. (Click here to read the full story.)

Diana Macalintal
Associate for Liturgy