Migrant Posadas - December 16, 2006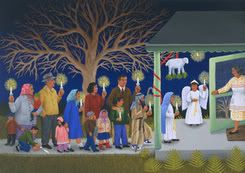 Join the Diocese of San José and the Catholic Campaign for Immigration Reform for a Migrant Posada, a journey of hope with Mary and Joseph and our brothers and sisters in Santa Clara County.
A posada is a pilgrimage that re-enacts Mary and Joseph's search for shelter in Bethlehem. Posadas are usually celebrated from home to home each night between December 16 to 24. Bring your family and friends and a candle to help light your way.
Saturday, December 16, 2006
Meet at Catholic Charities John XXIII Neighborhood Center,
Free parking in the 4th Street Garage at the corner of 4th and San Fernando.
or Daniela Santos at CCIR/PACT, 408-835-6708.
Labels: workshops and events