The Perfect WIll - December 2, 2006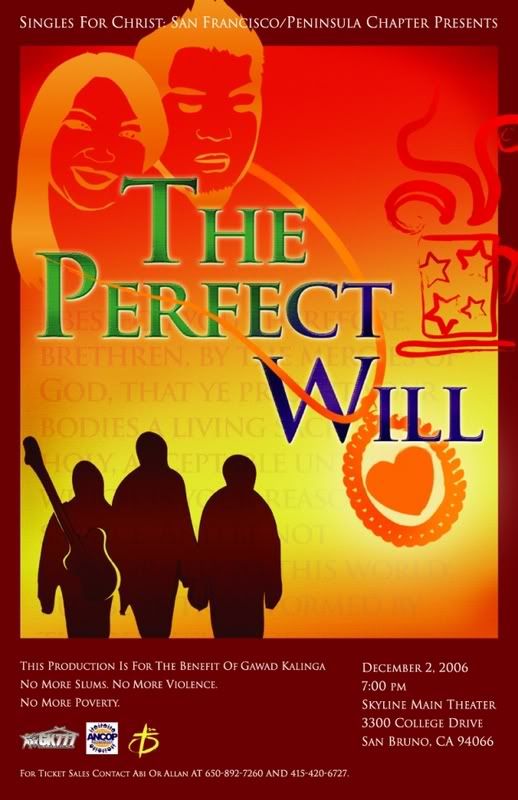 An invitation from Bernard...
Gawad Kalinga
(GK) translated in English means "to give care," and it is an alternative solution to the blatant problem of poverty not just in the Philippines but the world. Its approach is integrated, holistic and sustainable – a concrete action plan to rebuild this nation by harnessing the best of the Filipino – our faith and our patriotism.
What started barely five years ago in the Philippines as a simple but daring initiative by
Couples for Christ
has now become a growing multi-sectoral partnership driven by a vision of a new Philippines with no more slums. Together with its partners, Gawad Kalinga is now in the process of transforming poverty-stricken areas, many of them now empowered to further improve their quality of life! And the heart-work of GK volunteers is evident in the beautiful colors of the GK homes that have been built for and with the poorest of the poor Filipino families nationwide.
But GK is not for Filipinos only. We now have sites in Indonesia, Cambodia, and Papua New Guinea. GK will soon be transforming not just the Philippines, but the world!
Singles For Christ, San Francisco's production, "The Perfect Will," is their own contribution to the work of Gawad Kalinga. With your help, they intend to build one village (30 houses) for their less fortunate brethrens in the Philippines!
Singles for Christ, San Francisco presents...

The Per
fect Will
Saturday, December 2, 2006
7:00p
Skyline Main Theatre

Tickets: $15

Join us as we give you a Christmas production
for the benefit of Gawad Kalinga.
For ticket sales or sponsorship, contact
Allan
Below are some videos of GK's work...
2005 year ender
gk1mb (gk isang milyong bayani)
What is the perfect will?
For Jose and Maria, a newlywed couple coping with the harsh reality of married and pregnant life, it is to have the perfect family with their upcoming baby. But with Jose having a hard time changing his lifestyle from a happy go lucky party go-er to a responsible husband and Maria frequently having her mood swings, will these two eventually have the family they longed for?
Jasper, Mel and Bal are trying to work their way to the top of the music industry. But with their group losing its best talent yet, they soon search for their band's identity through crazy and wacky gigs. Will their personal agendas and distinctive identities hinder them from trusting each other and becoming the stars they proclaim themselves to be?
John, owner of Starcafé, frustrates as his business slowly crashes down. Will he ever be able to pick up and survive his frustrations and debts? Will he find out that the answer to all his problems just lies under his nose?
What is God's plan for these people? Will they trust in each other and see what He has in stored for them as He brings them all together? What will God's "Perfect Will" be?
In this musical play, both family and friendships are tested against the natural reaction of humanity when life and love as we know it are tested when we seek to gain true happiness, selfless love and the perfect will.