Calling all singers - The Armed Man: A Mass for Peace - March 24, 2007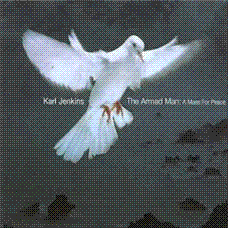 Announcing a musical multi-media performance of "The Armed Man" by Karl Jenkins to promote peace in our world on the anniversary of the Iraq war.
All diocesan musicians are invited to participate in this very special choral event as together we sing for peace and show our solidarity as a diocese in word and song. "The Armed Man" is scheduled to be performed on Saturday March 24, 2007 at 8:00pm inside the Cathedral Basilica of Saint Joseph.
Music will be provided to you on a complimentary basis. Please call Julie Wind, Director of Music, at 408-283-8100 x2205 to reserve your music. We ask that you please respond by 5:00p, Friday, January 19th in order to have your music ready for you at the first rehearsal.
The Armed Man: A Mass for Peace
Saturday, March 24, 2007, 8:00p
Cathedral Basilica of Saint Joseph
Rehearsal Schedule
Monday, January 22, 2007, 7:00p in Loyola Hall (Cathedral)
Monday, February 12, 2007, 7:00p in Loyola Hall (Cathedral)
Monday, March 19, 2007, Loyola Hall (Cahtedral)
Friday, March 23, 2007, 7:00p in Cathedral
Saturday, March 24, 2007, 8:00p Performance in Cathedral
Labels: workshops and events