Fr. Thomas Jones, CSP - Lessons Learned and Treasures Received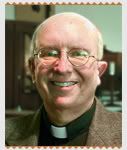 Fr. Tom Jones, CSP, was my first and best boss in the world of church ministry. When I was a freshman ending my first year of college at UCLA, he and the music director of the
University Catholic Center
(Newman Center) interviewed me for the position of assistant music director. Part of the interview included leading a mock choir rehearsal with the two of them, teaching them the different choral parts of a song. That was my first clue that this was not your average priest. You mean you're a priest who sings and reads music and can sing your part against another person? Wow!
In fact, he had already had a long musical life, playing trombone for the marching band of the University of Minnesota. At that time, I had never met anyone from Meen-uh-SOH-tuh, as Fr. Tom would say it. Again, little did I know that years later, I would make my way to his home state, a foreign land for a California girl, to spend six summers
studying liturgy.
There was much I didn't know when I met Tom, or "TJ" as all the students called him, but over the next four years, he formed me into so much of the minister I am today. He was the first homilist who made me cry...in a good way. His homilies were real and so human. After 18 years of going to church, I didn't know that homilies could be that way. Later, I'd realize that they are
supposed
to be that way, supposed to "interpret peoples' lives" through the Scripture (
Fulfilled in Your Hearing
, 52). Fr. Tom's homilies always used the events of our lives to show us where God was hidden among the muck and mire, the joys and surprises of each day.
Yet they were never "fluff" homilies, touchy-feely things without substance. He did his work, and like those who have mastered their craft, it never looked like work. Years after I left the Newman Center, I prepared my first reflection for a parish liturgy. I sent Tom my final draft and asked him his opinion. He nicely and genuinely encouraged me, as he always did, but he also told me don't skip the exegesis. It has to be there, but it doesn't have to bang you over the head either.
He was the first to correct and discipline me for a serious mistake I made in my job. For me, a perfectionist, making a mistake is horrifying. And being called into his office for "a talk" was petrifying. I had overslept and missed the first half of the 8:30a Sunday Mass at the Newman Center (okay, 8:30a may not be early for you, but it sure is for me!). He called me in the very next day and made it clear to me, in a very gentle but firm way, that this was unacceptable and it was not to ever happen again. I can tell you that I still have nightmares of missing an early morning Mass, but I can also tell you that I have never overslept for Mass since.
Tom, and the rest of the
Paulists
that I worked with at the Newman Center, were the first priests I met who really, absolutely down to their core, loved the liturgy, and loved the assembly even more. They gathered students, cling-ons (graduates who wouldn't leave), and villagers (locals who preferred the Newman Center to their parishes) to prepare, discuss, evaluate, and plan the liturgies and the seasons so that the assembly would be fully, consciously, and actively participating. Tom told me to read the documents, read the documents, and re-read the documents again. He sent me to conferences and conventions, institutes and workshops. He gave me opportunities no average pastor would give a 20-year-old. He asked me my opinions and paid attention to my suggestions. And when I eventually became the music director, budding liturgist, and catechumenate coordinator, he followed my directions, took risks, tried new things, and helped me make them better for next time.
We weren't really close friends like he was with others at the Center, but we understood each other and respected each other, and that was what I wanted and needed from him. It all clicked for me one day when the staff took an
enneagram
test and we discovered
we were both 3s
—achievers, needing to succeed, eagles soaring above not just to be admired but also to see the bigger picture. Among all the staff members and student leaders that we worked with over the years, he and I were the only 3s.
Where he could never succeed was with his health. He had always been sick, going through kidney failure, broken legs, two kidney transplants, and skin cancer. For him who refereed ice hockey in his spare time (yes, a little bit of Minnesota in California), this was devastating. But all through it, he was our fearless leader and vision guy, inspiring us to believe in our dreams and showing us the real, concrete steps for making them happen.
He had courage not only in facing his sickness but also in standing up when others would rather keep their heads down. He dreamed big, said the hard words, and gave voice to the vision. He made me believe that what I do matters, not because God is watching or because my soul needs to be saved, but because the impossible vision of the Gospel needs to become a reality in the real lives of the people around us. He taught me that standing up for that vision is not just a bold thing to do; it was the only thing to do if we dared to profess our faith.
Some of you may have seen me wear a small jeweled circle on the lapel of my suit coat. That was from Fr. Tom, his first Christmas gift to me when I joined the Newman Center staff. It's one of the few pieces of jewelry that I love because it's so spare yet elegant. Unlike Fr. Tom's homilies which were verbal jewels, elegant and economical in their use of words, I have rambled on. But I wanted to share with you a little about the person who I learned too late was a mentor in ministry and in life. A friend passed on to me this
Holy Thursday homily by Fr. Tom (pdf)
from 2005, one year before he would be diagnosed with the cancer that eventually killed him on January 16, 2007, at the age of 51. Although I can't get Tom's permission, I think he'd be happy to share it with you, another jewel to offer the church and one last lesson taught and hopefully learned.
Fr. Tom kept a blog during his last several months to keep in touch with his parishioners and his friends.
If you'd like to learn more about Tom, click here.
Labels: reflections