Resources for helping youth and young adults through the Virginia Tech tragedy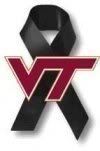 The following was developed by Scott Miller in the Archdiocese of Baltimore. Thanks to Patrick Mooney of the Diocese of Monterey for passing this on.
For those of us who serve and love young people, today's tragedy at Virginia Tech is most discouraging. The loss of 33 lives and the injury of many more are added to the horror of the Pennsylvania Amish in Nickel Mines and Columbine.
Here is a compilation of web-based resources for you to consider using in the upcoming days:
Talking with Young People:
Liturgical Resources:
Labels: young adults, youth