24th Week of Ordinary Time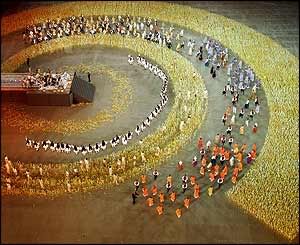 Do you remember the closing ceremonies of this year's Olympics? The stadium floor was transformed into a field of wheat, and running down the middle was a long table. As the wheat was harvested, a colorful group of people, young and old, began setting the table. They flung brightly colored cloths over it and passed baskets and plates filled with food up and down the length of the table, making sure everyone could easily be fed. Then they invited the harvesters, carrying sheaves of wheat, to join them. Soon, tourists from every nation found their way to the feast, and all ate their fill as they recounted stories of hardship and abundance, war and peace, darkness and light. Later that night, athletes from every corner of the earth surrounded that table, draping the entire stadium with their brightly colored flags, sharing their own stories of triumph and defeat, and each carrying a stalk of wheat—a reminder of the feast they had shared with the world during the last 16 days.
I watched these ceremonies that night, and as the banquet grew and the sense of feasting engulfed the entire stadium, I yelled out to my TV, "Now
that's
Eucharist!" That sense of joy and hope even amid strife and fear, the care for the land and gratitude for its riches, the welcome of strangers and nourishment of both body and spirit, the genuine feeling of community regardless of skin color, gender, age, or accomplishment, the infectious desire to share what was happening with everyone else in that stadium and across the globe—shouldn't our Sunday Mass do the same thing? For 16 days, a community of people, each struggling "to finish the race and wear the crown" inspired children and adults watching at home to reach for a goal, no matter how impossible it might seem. Doesn't our Eucharist send us out to do the same? Go, be light for the world and salt for the earth. Go, just as I have done, so you must do. Go, love and serve the Lord.
Every Sunday, we too prepare a feast. We too bring the fruit of the earth and the work of our hands and offer a sacrifice of praise. We too make a place at the table for stranger and friend, rival and teammate, tourist just passing through and life-long neighbor. And we too strive to make the impossible a reality, so that a world at war might live in peace.
In this week's
DSJ Liturgy Notes
, you'll find several articles to help you connect what we do at Mass with what we do in our daily lives:
The transforming event of the summer Olympics happens only every four years. But we have the life-changing power of the Eucharist every week. Every Sunday, if even for an hour, we have another chance to make the impossible happen—to shout to all the world—"This is Eucharist! Here, you are family! Here, you are fed!" Let us each do our best to bring that unity and mission of Christ into every part of our daily lives.

Diana Macalintal
Associate for Liturgy
Labels: reflections