26th Week in Ordinary Time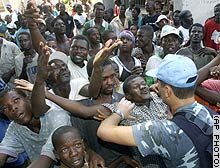 I saw a TV news report on the devastating floods in Haiti this past week. Over 1500 people have died and as many are still missing from the floods left behind by hurricane Jeanne. The news report showed images of relief workers throwing small bags of rice from the back of a truck into a chaotic sea of people, arms stretched out in despair and fear of starvation. As these bags of rice fell into the crowd, people fought over them, trying to rip the white bags from the arms of desperate women and men searching for food to feed their children. I stared at this image and had a sickening feeling—"I've seen something like this before."
Then the irony hit me. A few weeks ago I saw a similar mob scene on TV, arms frantically waving, people shoving and pushing each other. But this time, the small white bag was a baseball and the frenzy was over who would lay claim to Barry Bonds' #700 homerun ball.
Strange how we can fight over things that seem so important to us when on the other side of the country, people are fighting just to survive.
Sunday Eucharist shows us the things that are worth struggling for—welcome and respect for all people, unity and solidarity with the poor and the least, care for each other, remembrance of our past, hope for the future, food for everyone. Eucharist is where we practice unconditional welcome, respect, care, and love for all people and all life. In this way, we experience the reign of God—where every tear will be wiped away—and thus are sent to be the reign of God for those for whom a bag of rice is worth more than any baseball.
Last week, I joined in prayer with Judy Swazey, the liturgist at
St. Martin of Tours
, to celebrate with her family and friends the funeral Mass of her mother, Betty Frances Flyger. Throughout the liturgy, Judy's consistent care for life and for all creation was evident in the way she greeted every person, in how the environment expressed the simple and genuine beauty of nature, in how the presider, their pastor Fr. Jack Bonsor, gently guided visitors and those unfamiliar with the Catholic liturgy through the actions of the ritual, in how the lector was chosen not just for her relationship with the family but for her ability to proclaim the Word of God with power, comfort, and strength, and in how the music was familiar to all so that the sound of the singing assembly could embrace those who were silent with grief.
After the opening prayer of the Mass and all were seated, Judy shared some words of reflection and eulogy about her mother. She described how she had seen her mother throughout her life live the Catholic call to care and respect for all creation. For me, Judy herself, through the committed and gentle care-giving she had shown her mother during her long illness, is an icon of that respect for life. After her reflection, a projection screen accompanied by soft instrumental music by the pianist showed pictures of Betty's life. Then after a brief silence, the lector proclaimed the first reading. (There was no eulogy after Communion which allowed the ritual to flow smoothly from our sharing at the table to our farewell and leave-taking of our sister Betty.)
In this week's
DSJ Liturgy Notes
, you'll find:
This week let us struggle for the things that truly matter and reverence Christ who lives in every human being.

Diana Macalintal
Associate for Liturgy
FILED UNDER: OPENING ARTICLES
Labels: reflections