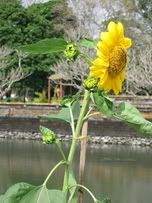 There's a new retreat center in town, and it's right in the heart of downtown Los Gatos!
Villa Holy Names Spirituality Center
(Los Gatos) is the sister center to Villa Maria Del Mar (Santa Cruz) and is a ministry of the
Sisters of the Holy Names of Jesus and Mary
. (Sr. Miriam, one of the retreat directors, and I are
Ramona girls
!)
The associates from the Office of Pastoral Ministry had a day-long meeting at the Villa last month. It's a beautiful facility perfect for staff meetings, retreats, and workshops. There are accomodations for day and overnight gatherings, plus the cafeteria is well-stocked with a wide variety of food. The grounds offer quiet places for reflection, and the newly-renovated chapel is gorgeous!
Sr. Miriam Malone
and a team of sisters called "
SNJM FIRE for Ministry
" offer individual spiritual direction, facilitation for your meeting or retreat, retreats personally designed for your group, and a year-long roster of retreats for women (in English and Spanish), catechumens, sponsors, neophytes, and catechumenate directors. (Sr. Miriam Malone is a team member of the
North American Forum on the Catechumenate
.)
Gathering for Ministers of Initiation
October 23, 2004, 9a - 4p
$25.00 (includes lunch)
This is an opportunity for parish teams working with the Rite of Christian Initiation of Adults process to gather for spiritual renewal and mutual support. Practical ideas for implementing the Rite will be presented by members of SNJM FIRE for Ministry experienced in this ministry. The keynote speaker will be Miriam Malone, SNJM who is a Team Member for the North American Forum on the Catechumenate.

Preparing for Advent: Retreat for Inquirers
November 13, 2004, 9a - 2p

Discernment Day for the Rite of Election
January 22, 2005, 9a - 4p

Twilight Retreat for the Elect
March 23, 2005, 6:30p - 9:30p

Retreat for the Elect and Godparents
March 26, 2005, 9a - 4p

Anniversary Retreat for Those Initiated During the Past Five Years
April 13, 2005, 9a - 3p