Cantor Workshop - October 21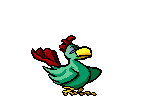 Don't be chicken! You can become a better cantor! Learn the basics that will improve your singing technique and your leadership skills, and practice the habits that will make you a better leader of musical prayer. Some participants will have the opportunity to cantor and receive immediate feedback.
This free master-class style workshop will be led by Diana Macalintal.
Thursday, October 21, 7p to 9:30p
Labels: workshops and events