Liturgists and Clergy Study Day with Fr. Ed Foley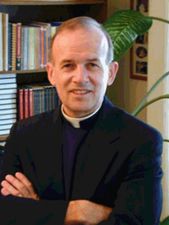 Bishop Patrick McGrath and the Associate for Liturgy invite all liturgists and clergy of the diocese to participate in the 3rd annual morning of study and reflection on the Eucharist. This year, Reverend Edward Foley, Capuchin, will guide us through the ministries of preaching and presiding and will give special focus on the Eucharistic Prayer. Fr. Foley is a professor of liturgy and music and the chair of the Department of Word and Worship at the
Chicago Theological Union
. He has been a priest for almost 30 years and is an internationally acclaimed speaker, author, and theologian. His presentation will include input and discussion on current liturgical praxis and a mystagogical and musical reflection on the Eucharistic Prayer.
Becoming What We Pray:
Reflection on Preaching and Presiding at the Sunday Eucharist
Reverend Edward Foley, Capuchin

Friday, November 5, 2004, 9:30a to 12p
Santa Teresa Church - 794 Calero Avenue, San Jose
This workshop is free for liturgists and clergy of the San Jose Diocese.
Liturgists and clergy from other dioceses are welcomed but are asked to contribute a $5 registration fee at the door payable by cash or check to "Diocese of San Jose."

Please RSVP to Rebeca Aldaz or (408) 983-0126.

Fr. Foley is a dynamic speaker and will be able to intelligently and passionately address your questions and engage your imagination. I know that he can lift all our spirits and help us feel re-energized for the work we do.

For more information, contact Diana Macalintal or call (408) 983-0136.
Labels: workshops and events