Liturgical Ministers Study Day with Fr. Ed Foley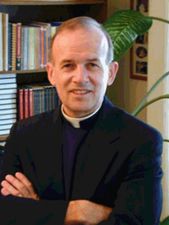 Remember why you do what you do for the liturgy. Remember why you put in the extra hours preparing, creating, practicing, getting up early and staying late. Remember why we gather on Sunday in the first place.
All liturgical ministers and those who care for the liturgy in any way are invited to a morning of study and reflection on the Eucharist. Reverend Edward Foley, Capuchin, will guide us through an examination of why we gather to celebrate the Eucharist by calling us to reflect on why we are sent at the end of Mass. Fr. Foley's presentation will include input and discussion on liturgical principles and methods for remembering, reflecting on, and evaluating our liturgical practice.
Go in Peace:
Reflection on Why We Gather
and For What We are Sent
Reverend Edward Foley, Capuchin
Saturday, November 6, 2004, 9:30a to 12p


Santa Teresa Church - 794 Calero Avenue, San Jose
$5 registration fee
Liturgical ministers from other dioceses welcomed.



Please RVSP to

Rebeca Aldaz

or (408) 983-0126.


Registration fee may be paid at the door by cash
or check to "Diocese of San Jose."
Fr. Foley is a professor of liturgy and music and the chair of the Department of Word and Worship at the
Chicago Theological Union
. He has been a priest for almost 30 years and is an internationally acclaimed speaker, author, and theologian.
For more information, contact
Diana Macalintal
or call (408) 983-0136.
Labels: workshops and events