Blessed Are They Who Blog
This article by Diana Macalintal first appeared in
Today's Parish
, vol. 38, no. 1, January 2006.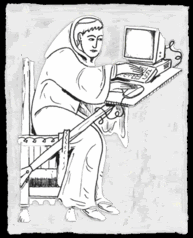 You remember the way the Internet used to be in the good old days, don't you? It used to be that you got onto the Web, got what you needed, then, you got out. But the way we use the Internet and the World Wide Web is changing. Now it's where we work, play, and explore, share our ideas and form community, connect with those like us and meet those most unlike us, inform our knowledge and even change the world (check our
pledgebank.com
).
Web analysts have called this a shift from Web 1.0 to Web 2.0. In Web 1.0, sites disseminate information (think of your typical parish Web site); in Web 2.0, sites enable participation (check out
upcoming.org
). Before, there was a single source of expertise and only one voice—the author of the Web page; now there is a sharing of collective wisdom and a venue for multiple voices (for example, user reviews and listmania on
Amazon.com
). The content of Web pages used to be the domain of only those who "knew the code," and we, the consumer, were recipients and spectators. Now, some Web sites, like
eBay.com
and
Wikipedia.org
, thrive only by the participation and content provided by their readers who act more like agents and co-authors.
A Conversion Moment
My introduction into the world of Web 2.0 began two years ago when I stumbled across a Web site that was different than the static sites I was used to. This site had no pictures and consisted only of stories written by a bartender of his daily interactions with his customers. The stories were funny snippets of conversations and events, and the writer was witty. Every few days, there was a new story, and you could read past entries in the site's archives. Though the arena and the speaker were not your typical sources of holy writing, I often gleaned some insight about my faith from his daily parables.
However, what got me hooked were not the stories but the comments left by his readers. This 2.0 kind of Web site—a blog, short for "Web log"—allowed anyone who came to the site to leave a public comment on any of the "posts," or entries. These were mostly "nice post" compliments. But as the commentators became daily regulars, they began to develop into a community all their own, spanning thousands of miles across the globe. Their comments focused first on the post then evolved into sharing of their own stories. Eventually, this blog became the gathering place, common connection, and conversation-starter for this tight-knit digital small-group support system.
De-Lurking the Church
The paradigm shift from 1.0 to 2.0 is not unlike the shift that began with Vatican II and continues today in the church. To use a term for those who read blogs without posting a comment, we no longer are "lurkers" who simply attend Mass. Now, we are called to fully, actively, and consciously participate. Before, Father, Sister, or the Catechism was the expert to which we turned to learn about our faith. Now, in addition to these voices, we have what the United States bishops call "a comprehensive, multi-faceted, and coordinated approach to adult faith formation," including liturgy, family- or home-centered activities, small groups, large groups, and individual activities (
Our Hearts Were Burning Within Us: A Pastoral Plan for Adult Faith Formation in the United States
, pp 34-38). Before, the church had promoted a static text-book style of catechesis in which unchangeable answers to doctrinal questions were memorized in rote fashion. Today, "the model for all catechesis is the baptismal catechumenate" (
General Directory for Catechesis
, 59) in which process, adaptation, integration into daily life, and, in tech-speak, a user-friendly focus are central characteristics.
Blogs reflect this paradigm shift, and parishes can use them to support their adult faith formation efforts. For example:
Blogs enable participation by a large group of people without needing them to be physically in the same room at the same time. Participants can share comments with not only the author of a post but also with other readers. Many blogs even invite readers to submit their own posts. This can facilitate a parish sharing of a "question of the week" or other discussions on faith. This also allows those who are not usually heard at parish meetings—think of children and teens, the homebound, the night-shift worker, the college student away from home—to have a voice in the parish.



Blogs are simple to create and update.

This ease allows parishes to quickly adapt posts to the current news of the day to help parishioners join faith and life. Pictures from last night's parish festival or Easter Vigil, the minutes from the last parish council meeting, up-to-the-minute audio travelogues of the choir tour in Europe, the pastor's daily reflections, even online registration forms for the next parish workshop can be quickly placed on the blog without the need for a computer wiz on staff.



Blogs can enable a fuller participation in the worship life of the parish.

Last Sunday's homily, catechetical reflections on next Sunday's rite of acceptance, simple blessings and prayer ideas for the home, liturgical season recipes, a listing of daily intercessions, pictures of the parish liturgical symbols with reflections contributed by those preparing to celebrate the sacraments—all these can be easily placed on your parish blog to give parishioners resources and a place to connect Sunday worship with their home and work life. Further, parishioners can easily add their own comments and ideas to share.



Blogs and Web sites use "hyperlinking"

to collaborate and connect with other sites to provide more information on a particular issue or to enable participants to put that information into action. Imagine how many more people were encouraged to donate to hurricane relief because all they had to do was click on a link on their parish's web site to donate to the Red Cross.



Blogs and the Internet, in general, use the gifts of the digital culture

to enrich the church by communicating in a medium familiar and second-nature to most young people. It is the digital way of "bringing Old Truths in new forms" (Fr. Isaac Hecker).
The world is shifting from technology that provides information to one that creates community. If used wisely, the church can answer the challenge given by Pope John Paul II:
"For the church the new world of cyberspace is a summons to the great adventure of using its potential to proclaim the Gospel message….I dare to summon the whole church bravely to cross this new threshold, to put out into the deep of the Net, so that now as in the past the great engagement of the Gospel and culture may show to the world 'the glory of God in the face of Christ'" (Message for the 36th World Communications Day, 2002).