Third Week of Easter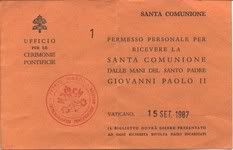 I had just graduated from
high school
the spring before when I got a phone call from the chancery offices of the Archdiocese of Los Angeles. The then Archbishop Roger Mahony was inviting me to participate in the
papal liturgy taking place at Dodger Stadium
by being one of 100 people from the archdiocese to receive Communion "dale mani del Santo Padre"—from the hand of the Holy Father, as the Holy Communion ticket said.
I was floored. But not as much as when I sat on the field of Dodger Stadium that September evening. This small man (he wasn't much taller than I am) commanded a presence that was so tangible, you couldn't help but be swept up from the moment his "pope-mobile" circled the field.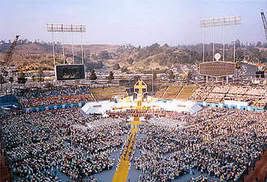 Yet even with all the pomp and rock-star quality of the night, with the thousands that filled the stadium, and the millions more who watched on tv, the event that was Pope John Paul II always came down to simple relationship between two people: sharing food, exchanging dialogue, being completely present to each other even if only for a few seconds.
Whether it was before a crowd of millions or in private audience with a few, in person or over the tv, radio, or internet, at the altar table or the
dinner table
, with the People of God at prayer or in prayer with God himself, in life or in death, John Paul II was intensely present to those he encountered. His quality of presence changed people and changed a world. Like a sacrament, he revealed the intangible God through the tangible things of his life, and like good liturgy, we left his presence different than when we first arrived. He did not limit his presence to the walls of the Vatican, nor to the conventional ways of communicating, but went out to where the people are and to where they spend their time. In music videos and poetry, among teens and Cardinals, his presence could not be held back. He even could not resist being totally present to Sister Death, and in doing so, showed us all how to embrace life.
But as with all of us, Karol merely did his part in the plan of God. Each of us in this Body of Christ has a role to play that only we can do. And if we refuse that role, the world will miss it. Every time we say "amen" to that taste of bread or the sip of wine, whether from the hand of pope or neighbor, we say "amen" to our role in the Body of Christ. We say "amen" to each other who work with us in the Body. We say "amen" to the unknown places where the Spirit will lead this Body. Be not afraid to do then what you have been called to do, to be present to people most unlike you, and to go where you are being led. In memory of John Paul II, may our Church heed its "amen."
"I am happy and you should be as well. Let us pray together with joy."
"Yo estoy muy feliz, y ustedes también deberían de estarlo. Oremos juntos con alegría."
--Final words of Pope John Paul II
In this week's DSJ Liturgy Notes, you'll find:
Diana Macalintal
Associate for Liturgy
FILED UNDER: OPENING ARTICLES, POPE