Constitution on the Sacred Liturgy and the Opening Prayer of Vatican II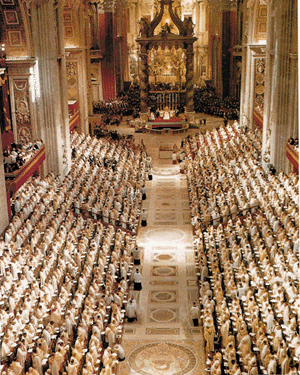 On November 22, 1963, the same day that John F. Kennedy was shot and killed, 2147 bishops voted to approve the first document of Vatican II. Four bishops opposed it. Two weeks later, on December 4, 1963, Pope Paul VI promulgated
Sacrosanctum concilium, the Constitution on the Sacred Liturgy
.
If you do anything with liturgy and have never read the Constitution on the Sacred Liturgy, then consider it your "Advent duty" to read it. There are only 130 paragraphs (or articles) with the most foundational articles right at the beginning. Each day of Advent, read five or six articles--this will take you just a few minutes each day. Then reflect prayerfully on these, laying aside any of your pre-conceptions, allowing the Holy Spirit to guide your thoughts.
Begin your reading and reflection with the following prayer written by Pope John XXIII for all the bishops to pray at each session of Vatican II.
Opening Prayer of Vatican II
We stand before you, Holy Spirit,
conscious of our sinfulness,
but aware that we gather in your name.
Come to us, remain with us,
and enlighten our hearts.
Give us light and strength
to know your will,
to make it our own,
and to live it in our lives.
Guide us by your wisdom,
support us by your power,
for you are God,
sharing the glory of Father and Son.
You desire justice for all:
enable us to uphold the rights of others;
do not allow us to be misled by ignorance
or corrupted by fear or favor.
Unite us to yourself in the bond of love
and keep us faithful to all that is true.
As we gather in your name
may we temper justice with love,
so that all our decisions may be pleasing to you
and earn the reward promised to good and faithful servants.
You live and reign with the Father and the Son,
One God, for ever and ever. Amen.
Labels: Prayers and Blessings