Pope Benedict XVI prays "in their shoes"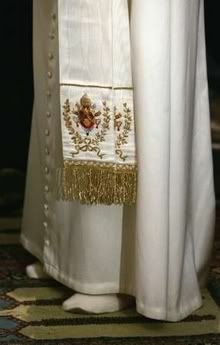 Pope Benedict XVI just completed a controversial trip to Turkey. In the wake of his
comments about Islam made during an academic conference
and the protests that followed, his visit carried much more meaning. The Pope's actions and statements with the Ecumenical Patriarch of Constantinople, Bartholomew I, seem to have brought us one step closer to reconciliation with not only the Church of Constantinople but also with the Islamic people. (The following
clip
quoted from Reuters.)
His first visit to a mostly Muslim country, held under tight security for fear of protests by nationalists and Islamists, was highlighted by a series of conciliatory gestures culminating in a stop on Thursday afternoon in Istanbul's famed Blue Mosque.

"The Pope's dreaded visit was concluded with a wonderful surprise," wrote daily Aksam on its front page.

"In Sultan Ahmet Mosque, he turned toward Mecca and prayed like Muslims," popular daily Hurriyet said, using the building's official name.

His gestures, including support for Ankara's bid to join the European Union and praise for Islam as a peaceful faith, seem to have persuaded the Turks to move beyond the tension following his speech quoting a Byzantine emperor as calling Islam violent....

Catholic officials also presented the mosque visit, where Benedict stood in silent prayer while Istanbul Grand Mufti Mustafa Cagrici prayed aloud, as a key moment of reconciliation.

"I would compare the Pope's visit to the mosque to Pope John Paul's gestures at the Western Wall," said veteran Vatican mediator Cardinal Roger Etchegaray, referring to Pope John Paul II's prayers at Jerusalem's Western Wall in 2000.

"Yesterday, Benedict did with the Muslims what John Paul did with the Jews."

Read more about this on Rocco Palmo's Whispers in the Loggia, a Roman Catholic news blog, by clicking here and here. He also has some great pics of the Pope's visit.