New Bishop of Monterey - Bishop Richard Garcia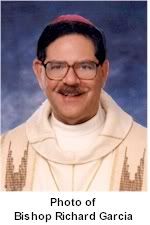 Christmas has come early to one of our own San Jose priests! Bishop Richard J. Garcia, Auxiliary Bishop of Sacramento, has been named by Pope Benedict XVI as the successor to Bishop Sylvester D. Ryan, to become the next Bishop of Monterey. Bishop Garcia was a priest of the San Jose diocese before he was ordained a bishop for the Sacramento diocese in 1998. The announcement was made by the apostolic nuncio to the United States, Archbishop Pietro Sambi, this morning in Washington, DC.
Read the
press release (PDF) from the Diocese of Monterey here
.
Read
Bishop Ryan's pastoral letter of welcome (PDF) to Bishop Garcia here
.
Read
Bishop Garcia's biography (PDF) here
.