National Migration Week - January 7 - 13, 2007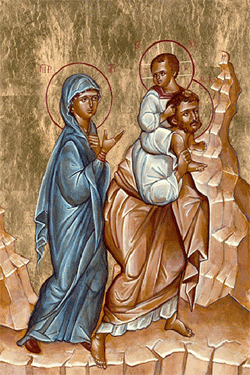 Prayer for Migrants and Refugees
Mary Most Holy,
you, together with Saint Joseph and the Child Jesus,
experienced the suffering of exile.
You were forced to flee to Egypt to escape the persecution of Herod.
Today we entrust the men, women and children
who live as migrants and refugees to your maternal protection.
Grant us the grace to welcome them with Christian hospitality,
so that that these brothers and sisters of ours
may find acceptance and understanding on their journey.
Teach us to recognize your Son
in the migrant who labors to bring food to our tables,
in the refugee seeking protection from persecution, war, and famine,
in the woman and child who are victims of human trafficking,
in the asylum seeker imprisoned for fleeing without documents.
May all those who are far from their place of birth
find in the Church a home where no one is a stranger.
We ask this in the name of your blessed Son, Jesus, our Lord. Amen.
Oración por los migrantes y refugiados
María Santísima,
tú, junto con san José y el niño Jesús,
experimentaste el sufrimiento del exilio.
Te viste obligada a huir a Egipto para escapar de la persecución de Herodes.
Hoy confiamos a tu materna protección a los hombres, mujeres y niños
que viven como migrantes y refugiados.
Concédenos la gracia de acogerlos con hospitalidad cristiana,
para que estos hermanos y hermanas nuestros
puedan encontrar aceptación y comprensión en su camino.
Enséñanos a reconocer a tu Hijo
en el migrante que labora para llevar el alimento a nuestras mesas,
en el refugiado que busca protección de la persecución, el hambre y la guerra,
en la mujer y el niño o niña que son víctimas del tráfico humano,
en el que busca asilo y está preso por huir sin documentos.
Que todos aquellos que están lejos de su país natal
encuentren en la Iglesia un hogar en la que nadie es extranjero.
Pedimos esto en el nombre de tu bendito Hijo, Jesús, nuestro Señor. Amén.
Letter from Bishop Gerald R. BarnesBishop of San BernardinoChair, USCCB Committee on Migration
Dear Brothers and Sisters in Christ,
I invite you to join in the 26th annual observance of National Migration Week, January 7 to 13, 2007. The theme for 2007 is
Welcoming Christ in the Migrant
, which is at once an invitation and a challenge to provide welcome for the migrants, immigrants, refugees, human trafficking victims, and other people on the move who come to our land seeking justice and peace. Our theme reminds us of Jesus' scriptural admonition to us:
'Lord, when did we see you a stranger...and not minister to your needs?' He will answer them, 'Amen, I say to you, what you did not do for one of these least ones, you did not do for me.' (Mt. 25: 44-45)
This reminder is particularly timely as our citizens and leaders grapple with the complexities and many dimensions of the migration experience. Our nation's legitimate security concerns have been distorted by some who would foment anxiety, fear, and a distrust of migrants. The present immigration reform debate has lost much of its reason and is often being fueled by raw emotions. Scriptures and Catholic Social Teaching call upon all of us to examine the issues and respond to the strangers among us as we would to Jesus Himself. The Holy Family found safety and new lives in Egypt during their time of great need. Many migrants today follow similar paths as they embark on their journey of hope.
I invite you to welcome Christ in the migrant through prayer, education, and parish outreach. To assist you in this expression of faith, a wide variety of resources for parishes and schools has been developed and are available on the USCCB/MRS
National Migration Week web site
. The enclosed poster, prayer card, and parish guide are available in larger quantities. Additionally, we encourage you to become informed and active in the
Justice for Immigrants: A Journey of Hope campaign
.
When we reach out to aid and comfort the newcomers to our land we are indeed offering ourselves and our gifts in service to the Lord. This is not only our Christian duty but a privilege, knowing that we too have been adopted into God's family. May you be richly blessed by your faithful acts of hospitality in Christ's name.
Sincerely Yours in Christ,
Most Reverend Gerald R. Barnes